In 1968, Ed and Mary Lorentz purchased the locally owned Bremer Brothers Meat Market, in Cannon Falls, MN. The Lorentz's hometown meat market quickly established a reputation for quality, trust, and customer service.
In July 1997, Ed and Mary Lorentz sold Lorentz Meats and Deli to their two sons, Rob and Mike. To grow the business, the brothers assembled a group of family and friends as investors and built a new, larger processing facility in 2000. To focus efforts on meat processing, the deli and retail location was sold in 2005.
Lorentz Meats sought investment again in 2011, this time from The Organic Meat Company, a subsidiary of Organic Valley, and expanded from 10,000 sq. ft. to a 30,000 sq. ft. facility in 2013. The expansion provided more space for further processing and on-site cold storage. It also allowed for greater food safety measures to be implemented. In 2014, the plant became SQF certified, a food safety distinction in line with international GFSI standards.
Also in 2014, Lorentz Meats partnered to build a plant in North Springfield, Vermont. Vermont Packinghouse serves the New England region based on the Lorentz Meats model, with a commitment to sustainability and transparency and to leading the niche meat industry.
Now in our fifth decade, Lorentz Meats has over 140 employees and we continue to grow in our capabilities to serve national niche meat brands, while maintaining our commitment to serve local farmers who bring in just one animal.
We pride ourselves on customer service and transparency. To this end, we offer large windows looking into our abattoir and fabrication area where any customer is invited to come and view our production process. This commitment to transparency has earned us recognition in many places, including from Michael Pollan in The Omnivore's Dilemma.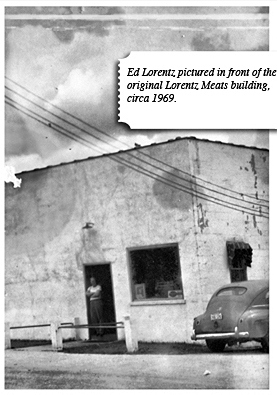 Core Values/Responsible Meat Processing
Service
Do what it takes – help others – go the extra mile
Lorentz Meats was built based on the work ethic and integrity of Ed and Mary Lorentz instilled in Rob and Mike. Our staff rises to every challenge to further our ability to serve niche meat producers.
Pride
Product excellence – heritage/background – community
No man, or company, is an island. We are proud of the customers we work with and their passion for their product. We respect the values of the Lorentz family. We are grateful for the support of the Cannon Falls community.
Integrity
Care – do the right thing – consider all partners
Our way is not always the easy way. We strive to attain the highest ethical standards, in all aspects: as a partner, an employer, a processor and an industry leader.
Leadership
Pioneer – make things better – grow industry expertise
We will ask the hard questions. We challenge our staff to improve, both our internal practices and industry standards. We invest in seeking tools and knowledge to help the industry and are willing to share.
The Lorentz Meats model is a full-service, USDA inspected, processing business, from slaughter to retail-ready packaging, nimble enough to serve small to medium producers. Our values align with the values of our partner producers in the niche meat business, summarized by a mutual respect for employees, community, product, environment and industry.